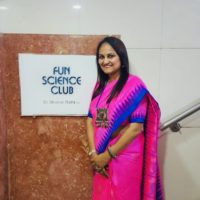 Dr. Shonali Rathi
Founder of FunScienceClub
Doctor
Science Enthusiast
Book lover
Teacher
A Doctor of Medicine who has done her MD in Internal Medicine from Somaiya Medical Institute and worked in field of medicine and Heath care for years. An ardent student, later doctor herself and lover of imparting knowledge in medicine. Promoted her to spread her Wings from the Nobel profession of Medicine to another Noble profession of teaching kids.
The lack of interactive fun science learning opportunities for kids, to remove kids from the gadget addiction, to make kids more aware of different themes, topics & fields in science and to make their fundamentals clear prompted her to start her center "Fun Science Club" for kids.
Fun Science Club was started in 2010 and since then has grown under the able guidance of Dr. Shonali Rathi.
It has grown in the number of students it has taught, to additions of the Book Review Club, Quiz Club, Special Workshops for kids apart from the science club.
The USP of Dr Shonali Rathi and her endeavor is :
A science degree and then a medicine degree has equipped her with all the right knowledge to impart to kids.
Being a mother of 2 kids she exactly knows how to deal with kids and impart knowledge in a very child friendly way.
Puberty and growth issues have been an important workshop series conducted by her for pree teen kids which is highly recommended.
She herself spear heads the sessions with strictly keeping a small batch size and all sessions are conducted by herself.
Time to time updates to parents are given after each session so that parents exactly know what their child is taught.
Notes specially prepared by Dr. Shonali Rathi are a great tool of learning and a treasure for every Fun science club and book club attendee.
This organisation is her brain child and aims to make learning fun for kids. In the future too lot of workshops and interesting themes and topics have been planned for the kids.